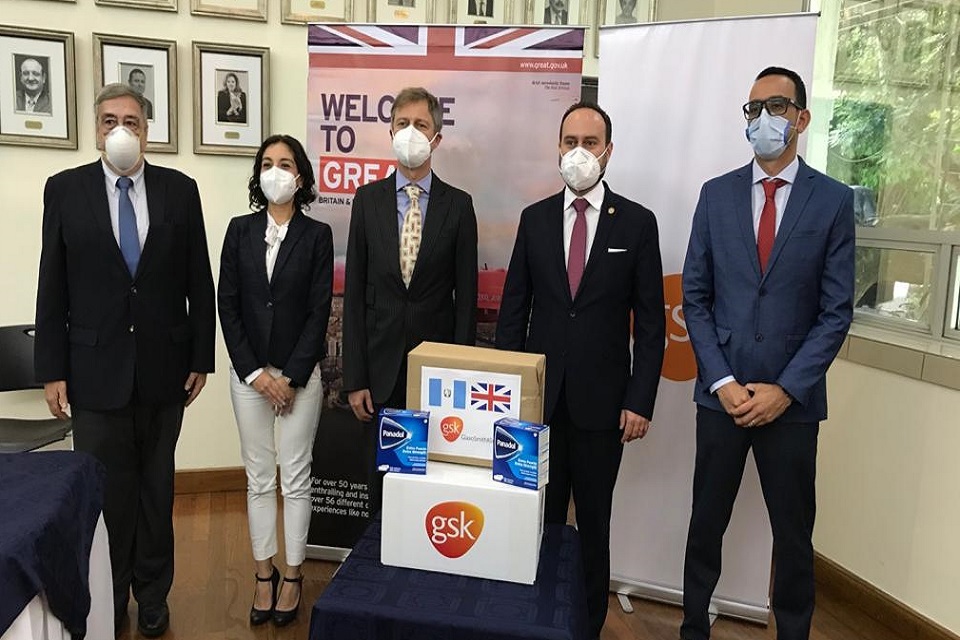 British Ambassador welcomes GSK donation to fight COVID-19
Published By GOV.UK [English], Thu, Oct 8, 2020 2:34 PM
---
The British Ambassador, Nick Whittingham, has welcomed news that GSK is donating personal protective equipment (PPE) supplies, respiratory inhalator chambers and medicine against fever and pain.
The donation from GSK consists of:
10,560 KN95 masks
1,000 inhalator chambers, to help the administration of respiratory treatments
480 protecting gowns
600 protection lenses
1,334 boxes of Panadol (paracetamol) to combat fever/pain
The donation event included the participation of the British Ambassador to Guatemala, Nick Whittingham; Guatemala's Minister of Foreign Affairs, Pedro Brolo; and GSK's General Manager for Central America and the Caribbean, Alejandro Canakis.
GSK is closely monitoring the COVID-19 pandemic and is supporting global efforts to tackle the virus. The company announced on April that has joined forces with Sanofi, bringing together two of the world's largest vaccines companies in an unprecedented collaboration to fight COVID-19.
The two companies combined their innovative technologies to develop an adjuvanted COVID-19 vaccine, which entered clinical trials in September 2020. If successful and subject to regulatory considerations, the companies aim to complete the development required for availability by the second half of 2021.
Press release distributed by Media Pigeon on behalf of GOV.UK, on Oct 8, 2020. For more information subscribe and follow